| | | | | | |
| --- | --- | --- | --- | --- | --- |
| # | Value | Description | ** | * | used |
| 33 | 7 kop. | Typo, white horizontal laid paper, harrow perf. 14¼:15;, gray & carmine | 20 | 5 | 0.5 |
| 33W | 2 kop. | Typo, white vertical laid paper, harrow perf. 14¼:15;, gray & carmine | – | 1000 | 40 |
| 33W2 | 8 kop. | Typo, white paper with a horizontal hexagons watermark, harrow perf. 14¼:15;, gray & carmine | – | – | – |
Varieties
Inverted Center
Only two examples of this variety are recorded. Estimate: $50,000.00.
Proofs
The "Perm Provisional"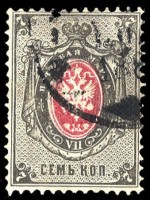 Only four copies of #33W2 with horizontal hexagons (cells) watermark are known. Printed in error on watermarked paper intended for fiscal usage and all used in Perm. On of them, ex-Ferrary, signed Friedl and Mikulski, with his certificate, was realized on Cherrystone auction in March 2007 for $95,000.00 (Previous sale – December 2004, $71,500).