| | | | | | |
| --- | --- | --- | --- | --- | --- |
| # | Value | Description | ** | * | used |
| 34 | 1 kop. | Typo, white horizontally laid paper, harrow perf. 14½:15;, orange | 4 | 2 | 0.5 |
| 35 | 2 kop. | Typo, white horizontally laid paper, harrow perf. 14½:15;, dark-green | 4 | 2 | 0.5 |
| 36 | 3 kop. | Typo, white horizontally laid paper, harrow perf. 14½:15;, carmine | 8 | 3 | 0.5 |
| 37 | 5 kop. | Typo, white horizontally laid paper, harrow perf. 14½:15;, lilac | 4 | 2 | 0.25 |
| 38 | 7 kop. | Typo, white horizontally laid paper, harrow perf. 14½:15;, blue | 8 | 3 | 0.25 |
| 39 | 14 kop. | Typo, white horizontally laid paper, harrow perf. 14½:15;, blue & rose | 60 | 25 | 1 |
| 40 | 35 kop. | Typo, white horizontally laid paper, harrow perf. 14½:15;, gray & carmine | 50 | 20 | 40 |
| 41 | 70 kop. | Typo, white horizontally laid paper, harrow perf. 14½:15;, brown & orange | 40 | 15 | 3 |
| | | | | | |
| --- | --- | --- | --- | --- | --- |
| # | Value | Description | ** | * | used |
| 42 | 3 rub. 50 kop. | Typo, white vertically laid paper, line perf. 13¼, black & light-gray | 2000 | 600 | 200 |
| 42W | 3 rub. 50 kop. | Typo, white horizontally laid paper, line perf. 13¼, black & yellow | – | – | – |
| 43 | 7 rub. | Typo, white vertically laid paper, line perf. 13¼, black & yellow | 1500 | 400 | 200 |
Varieties & Errors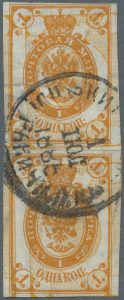 The unique imperforated vertical pair of 1 k. orange, add. with significant shift of groundwork, used with Kibarty 1 July 1886 datestamp. Only these two imperforated examples of the 1 kop. are recorded. One of the two rarest Russian imperforated stamps. Estimate: $200,000.00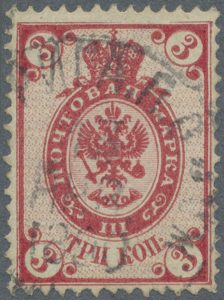 3 k. carmine with GROUNDWORK INVERTED, used and cancelled with RIGA 13. Jan. 1890 c.d.s.. A rare variety on the 3 k. (only 2 copies known to exist), and one of the rarest stamp of Russian Empire. Estimate $75,000.00.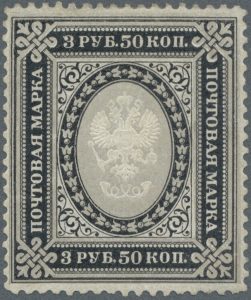 The rare 3 r 50 k. on HORIZONTALLY LAID PAPER, one of the 5 copies known unused. This variety ranks (after the first stamp) as the rarest unused stamp of Imperial Russia. Ex A. Faberge coll. (signed). Estimate $200,000.00.
Forgeries
Old dangerous forgeries of the ##42-43 stamps are exist on the market. Price range: $30-$60.